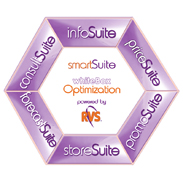 While other system providers offer static solutions, RVS has engineered an exciting and exclusive leading edge method that, for the first time, puts retailers in control of business performance. RVS's product suite, smartSuite, is designed to handle the transactional and analytic aspects of HQ merchandising with rich functionality and extreme user friendliness. We empower you to implement your individualized strategic initiatives using creative and dynamic organizational discipline and processes. We can show you how to drive smart sales and profit with smartSuite.
smartSuite

Generally referred to as the item database or item maintenance system, infoSuite is a much broader information management system. The core foundation is the very robust data model able to support not only multi regional divisions but also the complexity of DSD. The data model is designed to support both wholesalers and retailers with an automated workflow between the two. The suite includes full vendor maintenance and location (warehouses and stores) maintenance and the integrated source of supply authorization.
The suite's flagship application features a leading edge pricing system. This industry benchmark solution combines dynamic price management, common sense price simulation, and advanced category target pricing in a way that allows immediate, flexible responses to changing business conditions. This maximizes your competitive edge and target gross margin.
MORE

This comprehensive application integrates the processes, information, and decision making requirements of promotional planning into one highly efficient common system. It supports all sales promotion vehicles and full reporting of financial results. A true innovator, our promotion planning solution can reduce time spent on current promotion activities by as much as 50 percent! Forecasting and promotion modeling are powered by Momentum Market Intelligence (MMI). The store-specific version of this parent application complements our headquarters promotion planning system.
MORE
This suite provides complete capabilities to support the individual store interface. Applications are designed to integrate system information, store specific pricing, and promotion plans, providing a high degree of integrity. Features include direct store transmission to various store systems supported by third party vendors. We have also provided an integrated utility server with information in final form to be accessed by other systems.

RVS has partnered with Momentum Market Intelligence (MMI) to provide complete integration of the advanced high-performance statistical modeling and model-based forecasting. The models integrate in-store and other marketing tactics, while also identifying true baseline sales, seasonality, holiday, and advanced assessments of cannibalization and true category incremental sales and profits.

RVS and MMI can provide expert consulting to help you achieve the benefits you desire. This can include organizational process changes, pricing methodologies, advance modeling insights, and customized consumer marketing mix analysis. This reflects extensive experience in the CPG industry with hundreds of retailers and manufacturers globally.